"Paintings are the visual music to the world..."
- Henry Hensche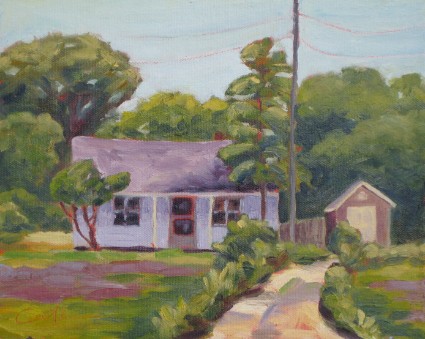 I create my artwork because of the peace it brings to me. I find joy in not only painting abstract combinations of color, and still lifes of fresh fruit, vegetables, or other ordinary items, but I also love to find time to go outside and paint landscapes from life. My top choice of landscapes paintings are coastal scenes that I paint on location, or "en plein air." By painting the everyday things and places around me, it allows me to really take time to get to know those objects and scenes at a greater depth. My hope is to allow the viewer the same opportunity to stop and see something they may have passed by one hundred times before, but now they see it in a new way. I want the places in my paintings to be places the viewer would like to be. While I had a show hanging in a gallery I heard a viewer say, "I wish I was there right now!" If she only knew that it was only my backyard! I love to be able to take the ordinary and make it special.
Oil painting and watercolor are two of my favorite mediums to work in, but I also enjoy drawing from life as well. My paintings range in size from as small as 5 inches by 5 inches as little jewels, to 5 feet by 5 feet or more in larger mural-sized pieces. My work is influenced by the impressionist artists from France in the way they saw color and light, along with modern day plein air painters from North Carolina such as Mike Rooney and Kyle Highsmith. I am inspired by the work of Susan Sarback and Henry Hensche, in the way color is applied in order to give light to a painting, along with others I have found in the world of daily painting blogs such as Carol Marine and Karin Jurick. The painters from the Plein Air Painters of America workshop that I attended after college graduation opened my eyes to a new way of painting by attempting to capture the fleeting moment. It is my hope in my artwork to capture that ordinary, everyday object or scene in a special way that allows the viewer an opportunity to find a resting spot for their mind in the midst of the business of life. To view my paintings please click on my online art gallery or visit Carteret Contemporary Art in Morehead City,NC the Mattie King Davis Art Gallery in Beaufort, NC, or Treasures on the Trent in New Bern, NC.